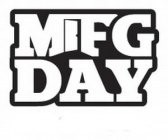 MFG DAY DRAWING
Official Rules
NO PURCHASE NECESSARY TO ENTER OR WIN.
A PURCHASE OR PAYMENT WILL NOT IMPROVE YOUR CHANCES OF WINNING
Eligibility. This MFG DAY Drawing ("Drawing") is open to all manufacturing companies in the 50 United States and the District of Columbia, who register to host facility tours on any day from October 2, 2017 through April 30, 2018. Void outside the USA, in Puerto Rico, the US Virgin Islands, and other United States territories and possessions. The Drawing is subject to all applicable federal, state, and local laws and regulations and is void where prohibited by law.
Sponsorship. The Drawing sponsor is the National Association of Manufacturers ("the NAM"), located at 733 10th Street, NW, Suite 700, Washington, DC 20001. The NAM and its respective affiliates, subsidiaries, successors, assigns, agents, representatives, officers, directors, and employees, and any entity involved in the development, production, implementation, administration, judging or fulfillment of the Drawing, including without limitation, the immediate family members of such individuals, are not eligible to participate. The NAM will conduct the Drawing substantially as described in these Official Rules.
Entry Period. This Entry period begins on October 15, 2016 at 12:01 AM EDT and ends on September 17, 2017 at 11:59 PM EDT ("Entry Period").
How to Enter. During the Entry Period, visit the MFG DAY registration page located on NAM's website at http://www.mfgday.com/user/register and follow the instructions to electronically complete and submit your registration for MFG DAY. Your registration automatically enters you in the Drawing. You will be asked to provide basic contact information, including your name, street address phone number, and email address. (NOTE: You must complete all required fields of the registration form with information that is valid on the date of the drawing to be eligible.)
Limitations on Entries. LIMIT ONE REGISTRATION PER FACILITY.
Prize. Three (3) prizes will be awarded, each of which consists of: a free MFG DAY tour headset rental package from TourGuide Solutions. The rental package may be used on any day from October 2, 2017 through April 30, 2018. The rental package will be shipped free-of-charge and can be returned to the shipper free-of-charge. All other expenses not specifically mentioned herein are solely the winner's responsibility. Winner agrees to accept the Prize "as is" and entrants hereby acknowledge that the NAM is not in any manner responsible or liable for any warranty, representation, or guarantee relative to the Prize, including warranties provided exclusively by TourGuide Solutions. Approximate retail value of each prize is up to $3,000. Winner is solely responsible for any federal, state, and local taxes. Prizes are non-transferable and no substitution or cash equivalent is permitted. Winner is responsible for federal, state, and local taxes, if applicable. Each prize is awarded "as is" with no warranty or guarantee, either express or implied, by NAM. LIMIT ONE PRIZE PER FACILITY.
Drawing. Winners will be selected in a random drawing from among all eligible entries collected during the Entry Period taking place on or about September 18, 2017, at the NAM's principal place of business. The drawing will be conducted by the NAM, whose decisions and interpretations on all matters relating to the Drawing and these Official Rules are final and binding in all respects. The NAM reserves the right to disqualify any entrant or winner and may refuse to award a prize to a person who is not eligible or has violated a rule, gained unfair advantage in the Drawing, or obtained winner status using fraudulent means. If winner is found to be ineligible or not in compliance with Drawing rules, winner will be disqualified and an alternate winner will be awarded the prize in a separate random drawing. Winner will be notified by telephone. Inability of the NAM to contact winner by telephone within seventy-two (72) hours after selection may result in disqualification of winner and an alternate winner may be selected in a random drawing at the NAM's discretion. A rental agreement will need to be signed by the winner with the final headset count by September 27, 2017. Maximum number of headsets for use by each winner is forty (40). Maximum number of microphones for use by each winner is two (2). Equipment will be shipped to be received two days before each scheduled usage. Return shipping labels will be provided to ship the equipment back on or about two days after each scheduled usage. Rental cost per location will not exceed $3000 in value. If prize is returned as undeliverable, then prize will be forfeited and another winner will be randomly drawn.
Odds. The odds of winning will depend on the number of eligible entries received, according to the eligibility requirements in the Drawing.
General Terms. By entering this Drawing, you promise to abide by the Official Rules and decisions of the NAM, which will be final and binding in all respects. The NAM reserves the right, at its sole discretion, to refuse, disqualify or withdraw any entry at any time. The NAM will not be responsible for any injury, damage or loss of any kind arising out of your participation in the Drawing. YOU AGREE TO RELEASE, DISCHARGE, AND HOLD HARMLESS THE NAM, ITS AFFILIATES, SUBSIDIARIES, EMPLOYEES, OFFICERS, DIRECTORS, AGENTS AND ASSIGNS FROM AND AGAINST ANY OR ALL CLAIMS, LOSSES, INJURIES, OR DAMAGES RESULTING FROM PARTICIPATION IN THE DRAWING. Except where prohibited by law, by accepting prize, winner grants the NAM and TourGuide Solutions a perpetual, worldwide, royalty-free license to use winning company's name without further authorization, compensation, or remuneration of any kind for advertising, promotion and other publicity purposes in any and all media now or hereafter known throughout the world.
Winner's Name. The name of winners will be available within ten (10) days after the close of the Drawing. To receive the name of the winners, where permitted by law, or a printed copy of the Drawing Official Rules, please contact the NAM by email at cglen@nam.org